Thursday, March 30, 2006
I wish I can attend a seminar or workshop about CSS dan Javascript in my country. I can try and search for it here in Malaysia, however it would be expensive for a hobbyist such as myself to pay such money. If only learning could be fun and cheap. In Australia, there are workshops which is going to be held at various places.
Maxdesign
of Australia will be having as
CSS & Javascript Workshop
. Click on the link for more information.
Sams Publishing
, one of the largest and one of the most successful computer book publishers in the world had published this book:
Kuala Lumpur International Book Fair 2006
this weekend.
Monday, March 13, 2006
When I first tried to install web software on my bought linux hosting, I failed miserably. I have no idea what php stands for, I didn't even know SQL or PHP Admin. Over the past several month, having to work on the outline of database planning for the software my company is marketing, I've learn tremondous amount of knowledge but most of all, how to connect any database with its application.
Some people said, you need to have an extensive SQL knowledge. For all I know is, I utilize free tools which is available and deploy the application without having to vigorously study SQL language. Of course, having such knowledge would be an advantage but for me, I think practicality is more important as we all have an equal amount of time in a day. There are plenty of work to do in a days job, don't you think so?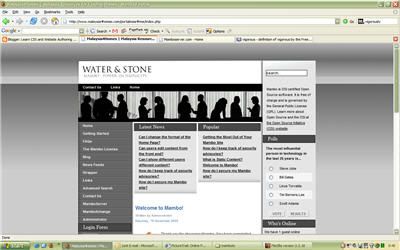 Armed with
FileZilla
, Firefox Browser, my trusty laptop and a wireless internet connection installed at my home. I've installed Mambo Content management just by sitting down at my living room on my sofa set. I just love working with technology as it gets easier all the time. Well, I haven't really customized the page yet but I'm working on it as I'm writing this post.
Still under beta testing, you can take a look at how
my Mambo page
works. It's late already, by the way take a look at this amazing software I've just installed on my laptop:
Just ignore all the icons and look at the background wallpaper. It's a photograph view of earth taken from outer space by a NASA satellite. Isn't it amazing? My country is in the dark so you cannot see anything except for some lights probably torched to the sky. You can have this software installed for free by going to
Desktop Earth 2.0
.
I really need to go to sleep now. Update to you later on my progress. Cheers...