Sunday, April 16, 2006
2 years ago, I have installed
phpBB
forum board in the company's website where I used to work. Not only I've installed, I've customized the forum board and put new images so that it looks good. Nevertheless, the forum became not active because there was no person administrating it plus myself was not active in it. I had nearly 30 people registered with the forum board.
Unfortunately, I left the company and the domain expired because the company didn't even bother to find a new webmaster or outsourced the job. Anyway, because of the installation I have done, it wasn't difficult to install a new forum board. Infact, it was almost the same task when I installed Wordpress for my blog.
Here's a screenshot of the forum board which I've created: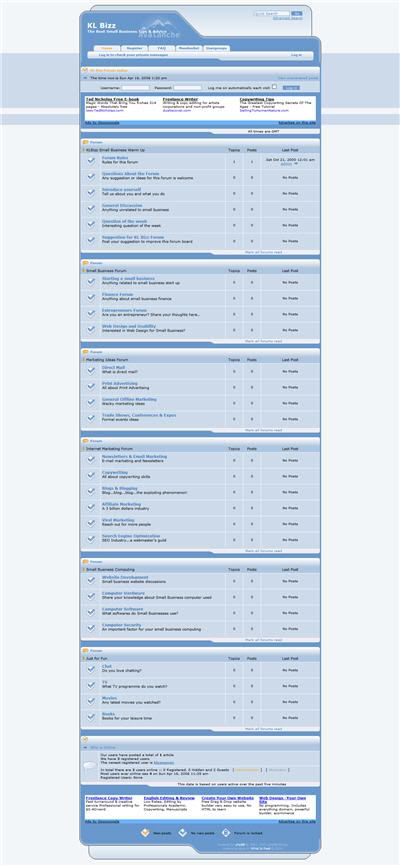 Quite long is it? So, how do you put in the adsense code into your phpBB Forum Board? Well, I'll let this forum (
Google Adsense in phpBB
) do the explaining job.
What advantage when we put the adsense code in phpBB forum board? If you used to browse into forum pages, you'll be sure to click all over the place inside the forum board. Next is, you'll tend to visit the forum board as often as you can especially if you have something interesting you are sharing it with others.
No wonder John Reese could make more than
USD500,000 a year
by applying one of his techniques that I'm currently testing.
Check out his video here
.
Tuesday, April 11, 2006
On my last post, I forgot to put in a few more websites that I've built. It's basically my own personal page that I've built on Geocities. Some people doesn't realized this, but you put your personal website using Geocities for free and all you need to do is register using your Yahoo ID. I believe almost all people who goes online has at least a Yahoo ID.
Geocities
gives you 15MB of webspace and for me 15MB is a lot. However, your page will have a sidebar advertisement. Oh well, nothing is free nowadays without ads on it.
Moving on to my website PageRank. You can read all about
PageRank here
. I love reading about SEO and PageRank is a hot topic among webmasters and SEO Optimization Market. If you have a high PR, it's something awesome to brag about. However, you need to remember that the SEO industry fluctuates, one day you are on the top spot in the search engine, the next day maybe you are way down on the 20th page or so. Let's worry about that...I'm not. However, having a PR on your blog or website is pretty much an indicator of achievement you have done online. Let's just have fun building it, shall we?
I'm going to show a few screenshot of the websites that I have which have achieve some PageRank:
This is my main blog where I blog about my personal adventure in my career. My blog here achieved a PR 4. That's quite high if you asked anyone who are into SEO. The key to achieve a PR is basically depends on your age. You can find tonnes of resources about this by downloading SEO e-books whether free or buying it. Still, to know about this is something, putting it to the test is another task. Don't let the theory helding you back to just moving on doing it, ok? BTW, this blog achieved PR2. Not bad ehh??

KL Bizz is one of my hobby website I built. That website has a PR2. I haven't really structured the website properly yet it is receiving traffic once in a while from the search engines.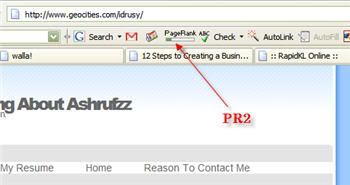 Now this is my personal website that I've built on
Geocities
. Basically the page contain little information to be proud of. Let look at an interesting thing that happen to another page of mine, also in Geocities.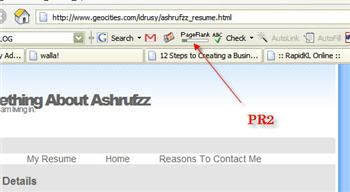 Now this is a page I've created about one month ago which is linked to the main page above. This is actually my Resume page where I tell all about my details just like trying to get a job. What amazing is that this page got a PR2 just like the first page. The page got listed on google last 2 weeks though.
I just love doing experiment, it's amazing what you can do online, don't you think so? Oh, I nearly forgot. I got an invitation to register on
Google Page Creator
last 2 week. It's not open to public but you can put your e-mail in the waiting list. Took me a week the last time I subscribe with them. Here's a screenshot of the page I've created using the wizard that Google have prepared:
I haven't finish exploring this Google tool yet. However, it's even easier than Geocities and there's no ads on it. I guess, sooner or later, there will be ads. In the meantime, I'm going to use whatever I can get my hands on.
Alright, I'm going to build more pages while I still have the time. I'll write again when I have something interesting I've found. Have a nice day everyone..
Monday, April 10, 2006
It has been nearly 3 weeks I haven't write anything here. I've been very occupied with so many jobs as I'm wearing a lot of hats in my career and also in my personal life. It is sometimes very exciting more or less very exhausting at some times. However, we all have choices so this is the way of life that I have chosen.
So, the past several weeks. I've been working on a few websites as part of my CSS Learning. Most of my time is spent on the company's website since I'm still under employment and that is where I make most of my money. At the same time, I have to manage my time to do other stuff since the company doesn't have the resources to employ skilled, qualified staff. As we all know, when you are doing a lot of multitasking, your skill become average and that is not good if you want to be specialized in a specific area. Being specific can make you more money because you can become a professional in later days. The same goes to professors, they can take a lot of PHDs as that would look stupid or even worst, greedy.
So, I want to showcase screenshots of the website I've been working on. All of these websites are taken from templates obtain at Open Web Design and being edited hand coded using Dreamweaver and some of it using AlleyCode. Just click on the images below if you are interested to have a look of each and one of them: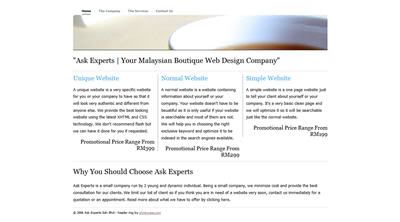 I spent just a couple of hours to edit the template and put it a brand new text and feel. I'm interested to have my own company and solely focus on designing websites and SEO. However, because of my commitment to the employment, I had to do it part time. Still part time requires me to spend at least 20 hours a week. Didn't achieve that yet but I'm working on it.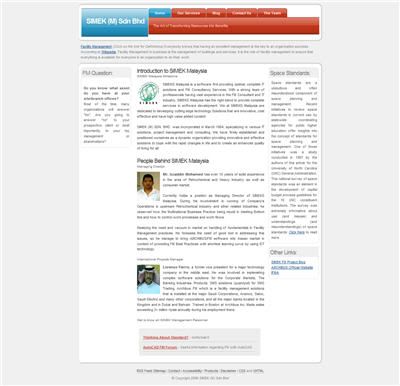 Now this is my company website that I've been working on for weeks. It's still under development as it is develop solely by myself. Working in a corporation, a lot of things need to be approved first by my employer before it can be published. I have one practical student working together with me and I assigned her to do a flash intro for the company. I was surprised to know that eventhough she studied multimedia in college, she never knew how to design not even a simple flash application. I wonder why colleges here just taught their student only the theory and not the practical. So, what happen now is she needs to learn to design Flash pretty quickly as I have set a dateline to get the Flash presentation ready. Not that I'm pressuring her or something.

So, I have a lot of things in my hand right now. It's tough to multi-task so I need to be focused on one thing at a time. Update on my progress very soon.