Monday, April 10, 2006
It has been nearly 3 weeks I haven't write anything here. I've been very occupied with so many jobs as I'm wearing a lot of hats in my career and also in my personal life. It is sometimes very exciting more or less very exhausting at some times. However, we all have choices so this is the way of life that I have chosen.
So, the past several weeks. I've been working on a few websites as part of my CSS Learning. Most of my time is spent on the company's website since I'm still under employment and that is where I make most of my money. At the same time, I have to manage my time to do other stuff since the company doesn't have the resources to employ skilled, qualified staff. As we all know, when you are doing a lot of multitasking, your skill become average and that is not good if you want to be specialized in a specific area. Being specific can make you more money because you can become a professional in later days. The same goes to professors, they can take a lot of PHDs as that would look stupid or even worst, greedy.
So, I want to showcase screenshots of the website I've been working on. All of these websites are taken from templates obtain at Open Web Design and being edited hand coded using Dreamweaver and some of it using AlleyCode. Just click on the images below if you are interested to have a look of each and one of them: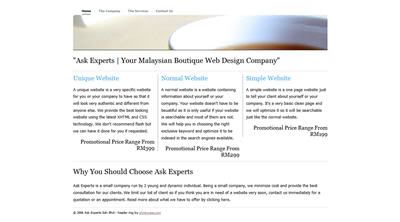 I spent just a couple of hours to edit the template and put it a brand new text and feel. I'm interested to have my own company and solely focus on designing websites and SEO. However, because of my commitment to the employment, I had to do it part time. Still part time requires me to spend at least 20 hours a week. Didn't achieve that yet but I'm working on it.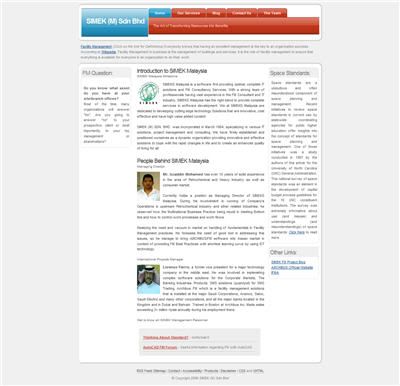 Now this is my company website that I've been working on for weeks. It's still under development as it is develop solely by myself. Working in a corporation, a lot of things need to be approved first by my employer before it can be published. I have one practical student working together with me and I assigned her to do a flash intro for the company. I was surprised to know that eventhough she studied multimedia in college, she never knew how to design not even a simple flash application. I wonder why colleges here just taught their student only the theory and not the practical. So, what happen now is she needs to learn to design Flash pretty quickly as I have set a dateline to get the Flash presentation ready. Not that I'm pressuring her or something.

So, I have a lot of things in my hand right now. It's tough to multi-task so I need to be focused on one thing at a time. Update on my progress very soon.

0 Comments: