Tuesday, April 11, 2006
On my last post, I forgot to put in a few more websites that I've built. It's basically my own personal page that I've built on Geocities. Some people doesn't realized this, but you put your personal website using Geocities for free and all you need to do is register using your Yahoo ID. I believe almost all people who goes online has at least a Yahoo ID.
Geocities
gives you 15MB of webspace and for me 15MB is a lot. However, your page will have a sidebar advertisement. Oh well, nothing is free nowadays without ads on it.
Moving on to my website PageRank. You can read all about
PageRank here
. I love reading about SEO and PageRank is a hot topic among webmasters and SEO Optimization Market. If you have a high PR, it's something awesome to brag about. However, you need to remember that the SEO industry fluctuates, one day you are on the top spot in the search engine, the next day maybe you are way down on the 20th page or so. Let's worry about that...I'm not. However, having a PR on your blog or website is pretty much an indicator of achievement you have done online. Let's just have fun building it, shall we?
I'm going to show a few screenshot of the websites that I have which have achieve some PageRank:
This is my main blog where I blog about my personal adventure in my career. My blog here achieved a PR 4. That's quite high if you asked anyone who are into SEO. The key to achieve a PR is basically depends on your age. You can find tonnes of resources about this by downloading SEO e-books whether free or buying it. Still, to know about this is something, putting it to the test is another task. Don't let the theory helding you back to just moving on doing it, ok? BTW, this blog achieved PR2. Not bad ehh??

KL Bizz is one of my hobby website I built. That website has a PR2. I haven't really structured the website properly yet it is receiving traffic once in a while from the search engines.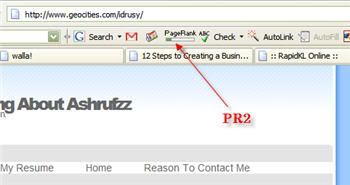 Now this is my personal website that I've built on
Geocities
. Basically the page contain little information to be proud of. Let look at an interesting thing that happen to another page of mine, also in Geocities.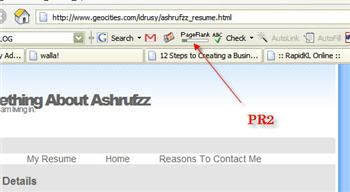 Now this is a page I've created about one month ago which is linked to the main page above. This is actually my Resume page where I tell all about my details just like trying to get a job. What amazing is that this page got a PR2 just like the first page. The page got listed on google last 2 weeks though.
I just love doing experiment, it's amazing what you can do online, don't you think so? Oh, I nearly forgot. I got an invitation to register on
Google Page Creator
last 2 week. It's not open to public but you can put your e-mail in the waiting list. Took me a week the last time I subscribe with them. Here's a screenshot of the page I've created using the wizard that Google have prepared:
I haven't finish exploring this Google tool yet. However, it's even easier than Geocities and there's no ads on it. I guess, sooner or later, there will be ads. In the meantime, I'm going to use whatever I can get my hands on.
Alright, I'm going to build more pages while I still have the time. I'll write again when I have something interesting I've found. Have a nice day everyone..
0 Comments: