Friday, November 25, 2005
Working in a small company, I wear many hats in the organization. I am the office administrator, the receptionist, the secretary, the project coordinator, the office boy and also the webmaster. With my employment in the company, the company has saved tremendous amount of labour money by giving me a minimum wage while maximizing all my potentials. What a great benefit a small company can have yet it won't be long for me. I guess for those people who are smart enough, they'll know where is my direction really is.
Enough on my hidden agenda, let's move on to my website authoring stuff. After I selected a website template at
Open Web Design
. I then edited the template and giving it my touch. I haven't touch my company's website since September, the website is now indexed on Google. The best part is, the
FM Blog
that I have installed got a 3/10 Page Rank. I think I should blog there more often. So, here's the end result after almost 4-5 hours of authoring the HTML and CSS code: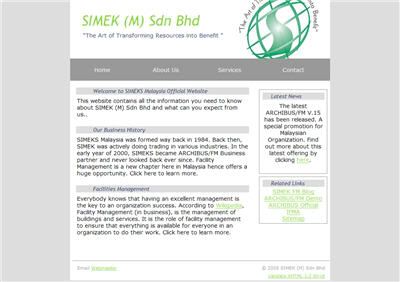 It is not that pretty, I tend to keep it simple as I know I'm not getting paid doing this. However, there are ways to monetize this website but I'll do that later. My focus now is to get the website ready and get my CSS knowledge to the test. I also added a form page for some lead generation. I used a simple script I obtained from
Hotscripts
. No need to buy any fancy software to have a form on my website.
To tell you the truth, my cost for maintaining my company's website is less than USD 35/year. That would make out a cost of less than USD 3/month. Of course, converting it to my country's currency, that would be around RM13/month or RM0.45/day. My lunch cost me RM5.00/day so it is that cheap to create a website (of course that varies on your level of expertise though). That is the beauty of doing business online which I tend to build right now. Read
my reason
on why I am eager enough to learn about CSS.
I'm editing more websites after this. I'll be updating this blog again once I've finished or on progress for my next website project. Right again soon.
0 Comments: