Sunday, November 27, 2005
When I first encountered pop-ups, it's like watching a new commercial on TV. I kind of like it, but it gets bored after a few times watching it. These days, pop ups can make your PC go haywire if you don't take the necessary precaution. My PC alone has been infected with all sort of trojans, viruses, scripts etc before and reformatted dozens of time. Lucky I can do it all by my own, it is quite costly when you hand over your PC to be repaired at the computer shop. Maybe I should open one up later..hehe..
I've been playing around with Pop-Ups. It resembles a 'Post It' kind of note. As you can see, I have also installed the pop-up in this blog. It doesn't have anything to do with CSS. It's a javascript thing. I have also put it up on my personal blog, look: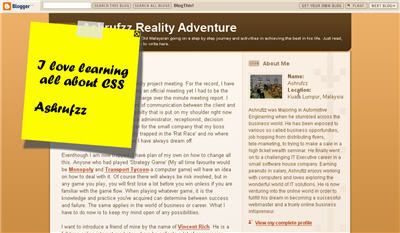 The best part is, you can learn how to do this for free. However, putting it together is quite technical. It took me half an hour to edit the graphics and configure it out. Still, when you go to
this website
, it'll show you how to have your own beautiful pop-up with a video tutorial. The website owner by the way is a friend of mine. His name is
Kidino
I met the owner in a wealth seminar last year. He is an awesome guy, you can visit his
blog
about internet marketing, very informative.
The next lesson is that I am going to learn is,
how to modify and style your web form
so that it'll look attractive for people to fill them up. Awesome stuff. I can't wait to find a time to experiment it. Until then, Monday blues everyone..
0 Comments: