Saturday, July 15, 2006
If you are new to webhosting and domain registration, then it is okay. I never knew about this whole technical jargon of webhosting, domain, DNS and stuff. I just keep on being comfortable with it by reading and studied those stuff every now and then. I am always looking for the free or the lowest cost that I can find. I probably should change this attitude if I wanted to go into business but it could probably be my strength point. By the way, I just came back from my 1st Cisco Certified Network Associate (CCNA) in one of
Cisco Regional academy
here. I learn quickly since I've been exposed to the networking arena for quite a while.
Last time, I told you about
Is Free Web Hosting Reliable?- Part 2.
One of the featured free webhosting was
Awardspace
. If you read my post carefully, I can only access Awardspace when I am at home. The network at my office doesn't allow me to access their website for some unknown reason. Their website is full of Google Ads, I can understand that because they give out free stuff and hope to gain something back in return somehow. Earlier, I removed one of my domain from Awardspace Free Webhosting because it was not working. Then I realized I missed something so I tried and putting the domain name again.
Let's see what did I do. After signing into Awardspace login area, I went to the Domain Manager area. There, I put my domain name on the top form and pressed the Add Domain.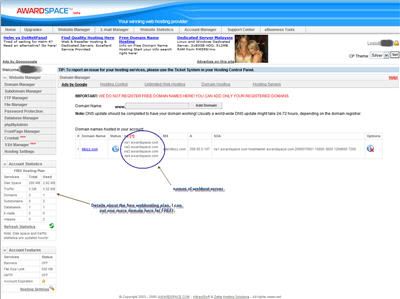 You can click on the image above to enlarge it if your eyes can't see very well. The circle area is where the information of the Name Server (NS) where you should be putting in your domain management. Depending on where you bought your domain, mine looks like this:
Oh no..My domain here is expiring next month. Got to renew it by end of this month. I loved this domain name because it has a PR2 on Google. Unfortunately the domain name is not mine. So, after putting all the details on the domain management console. Now just let the thing resolves by its own. It should be online in probably 24 hours after you have pointing the new server. Now you know how to move your domain around but what is more exciting is, you have a 200MB of webspace with a 5GB of Bandwitdh. That is huge and it's FREE. I just love FREE stuff. So, what are you waiting for, sign up for an account at
Awardspace
while it is still free and available and utilize it smartly.
0 Comments: