Thursday, June 15, 2006
I registered for two new free webhosting last night. Both of them are good free webhosting but most importantly, it offers a bannerless page and supports PHP. However, one of them is not suitable for my use. Let's look at what I've done and what problem I encountered.

Award Space Beta

This website is a dream come true for me. Look at the size of the disk space with a 5GB bandwitdh. The best part is, if you own a domain name, you can put your domain name there for free. The
NO BANNER ADS
is the most valuable thing to look out for. So, what I did was, I transfered my one of my domain to Awardspace and waited for the DNS stuff to configure itself. The next day, I tried and access the webhosting but the connection refuses to connect. At first I thought my connection was the culprit. At last, after using
Guardster
, an anonymous web proxy connection my connection went through. So, my conclusion is, my network where I'm accessing their website is being blocked. So, no connection means no good so I think I have to think again upon building my website using this webhosting. I'm taking out my domain name out from there very soon.
PHPNET.US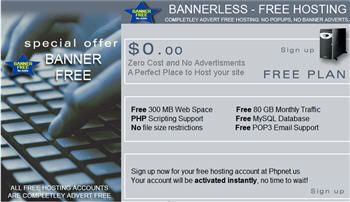 Now this is an interesting webhosting. It offers a whopping 300MB, support PHP scripting an no file size restriction. The best part is, it's
BANNERLESS
. I've installed wordpress on the webhosting and the connection was lightning fast. The only setback for this website is it's domain name. Well
dot US
is not so commercial and popular unlike
dot com
. Still, for a webmaster like myself, as long as it is reliable and good for usage, it is definitely a priority choice to make. However, these sort of webhosting can start putting banner instantly whenever they are prepared to do so. I've experienced that with a couple of free webhosting before.
5 Gigs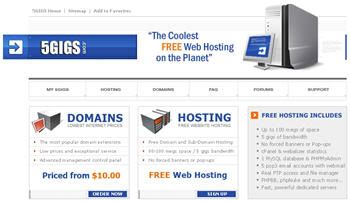 I have an account during the early existence of this free webhosting. Infact, I have several of them, unfortunately a few of them expired all of a sudden and I eventually forgotten about them. At first they offered a bannerless page for the free webhosting. As expected, they started to put in their ads on the webpages I've created so I stopped using their webhosting. However, their page loads are fast and support quite a number of interesting features.
100Free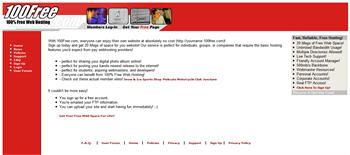 I've been using 100free account for almost 3 years already and the webhosting is still running like a charm. Let's take a closer look at the features: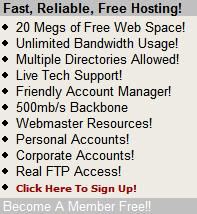 The size they offer is not so big unlike the others but they provide an unlimited bandwitdh. There's also an FTP access for a quick file uploads. The only problem is, they put a small black ticker at the bottom of every page you have. You need to blend your page black to compliment with the black ticker. But hey, look at the brightside, there's no ugly banners on top of the page plus, it's been around for several years now. A good basic choice if you ask me.

That's wrapped up my review of the webhosting that I've been experimenting. I need to get back to work to build more pages as I'm building a network of free webhosting to try and earn free traffic from search engines. It's a skill to be learned to become a good webmaster. I'll write again very soon.

2 Comments: