Friday, July 07, 2006
I've been installing, testing, designing, tweaking and adding features to a lot of my blogs and websites. As I do all this things, the more I do this kind of activities, the less learning curve that I have to endure and it has now become very easy for me to build blogs, tweaking it according to my preferences or customize it based on what I wanted.
However, apart from all the numbers of blogs and design, I lack one thing which is the most important thing in order to earn something from what I've built which is
CONTENT
or
COPY
. I have become too accustomed to install, tweak, customized and all kind of technical stuff that I neglect the very most important thing,
WEBCOPY
. Websites or blogs stores information and content. So
content
is the juice that people are seeking for, it's not the design, the eye catching flashy feature and all sort of stuff although it may help to attract people.
So, the skill I need right now is
COPYWRITING
. Wait a minute, there are tonnes of resources about honing copywriting skills on the internet. There are free resources but most of them are paid stuff. So, where do I start? I could spend more time searching and collecting all the information I need but that wouldn't be productive. I hate it that this time consuming learning process took away most of my time. It seems to me that I need to relearn my way of managing my time.
Recently, I read this free ebook which I obtained for free from one of my many subscribed newsletter: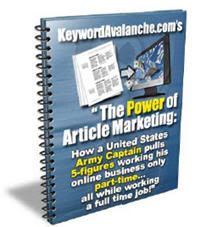 (Right click and save the e-book above for your consumption)
I am so ashamed of myself after reading this e-book. Until today I still can't harness the knowledge that I've obtained. Follow through is my main weakness and I should work hard to overcome this obstacle. Let me know if you have the same problem as I am. In the mean time, read the e-book and try not to search for any short cuts ever again.

0 Comments: